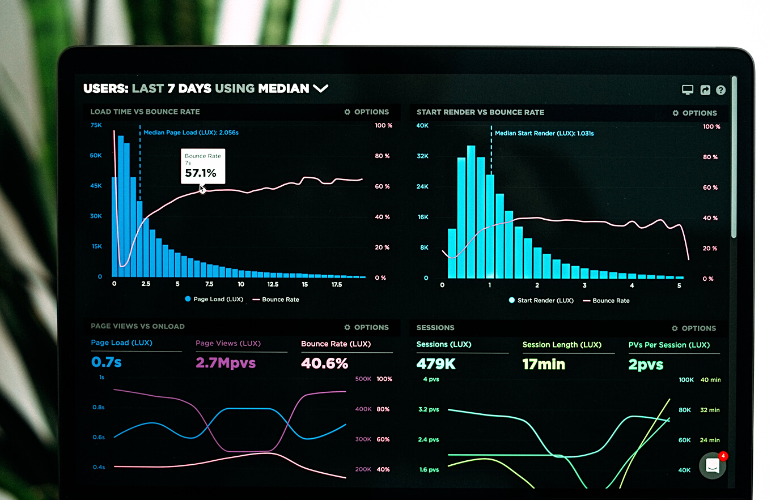 How to Optimize for User Behavior and User Experience
Optimizing for user behavior and user experience is towards the top of the list of one of the most important aspects/processes to consider when writing your article and viewing in analytics. User behavior consists of retention rates, usage and actions according to Amplitude; (such as purchases/checkouts, form signups, or other clickable actions).
Before you start writing, think about what works best for your audience. Ask yourself the following: who is your audience, what industry(s) do they belong to, where are they located, and what are their interests. By asking these questions, you are already one step ahead of determining what content works best.
Optimizing for Easy Navigation
Besides optimizing your article, consider that your homepage of your website is user friendly. A website that is easy to navigate and is visually appealing, will encourage users to return. (This goes for viewing through mobile and desktop).
Traffic, lead generation, brand perception, website updates, accessibility, and analytics are other elements that website navigation impacts, as said by Orbitmedia.
Here are some recommendations that lead to seamless navigation on your website:

Display a clear understanding of what your page or website is about, what your company/organization offers, and information about products/services/solutions within the first 30 seconds.

You want to come across as

informative without being too detailed.


Reduce the amount of buttons and tabs in both your headers

and

footers.

Take into consideration what you want your menu to look like. For the purpose of keeping your audience engaged on your website, think about the structure/layout/design.




Aim to have a majority of your content on one page, (meaning without tabs/sub-tabs/drop downs). Keep it on one page instead of multiple pages (the less extra clicks the better). This will make your readers happy, and as a bonus, search engines who are scanning and ranking your pages, will also rank your page higher for a better opportunity of higher volume and traffic, (if fully optimized correctly).




Page speed –

H

aving great page speed is one of the most important aspects for users and search engines. In fact,

SEMrush

describes slow page load speed as one of the most severe issues that can harm your users' experience and Search Engine Results Page (SERP).

Color – Using bright and standout colors can give your page/site an appealing look. With standout colors, you are opening up opportunities for better engagement and conversions. Be sure to use brand colors on your page for better communication and recognition. Once your readers see something that attracts or interests them, they'll remember for later!
Optimize for SEO
When you're trying to reach your target audience, relate to them first. Structure your story as it is meant for them. Include certain keywords that would make a reader come back to your site. Having these relevant keywords on your page can allow for better SEO. For an explanatory guide on how to gather and implement those keywords, see here.
Tracking User Behavior
Viewing user experience data through an analytic tracking program, such as Google's G4, will help you determine structural and content decisions on how to retain visitors and answer whether or not you are providing the content they wish to see. According to Search Engine Journal, analytics allows for "a better understanding on how users actually use your website vs how you planned or wanted them to use it, is a critical aspect to know and interpret from the data you collect".
In your analytics, pay attention to what content is popular through page views, what content is getting attraction such as backlinks, shares, or reactions, how many new and returning users are visiting your website/page, and what content isn't getting views, or has a high bounce and exit rate. Tracking user behavior also answers how much time readers are spending on your page and when. Monitor this continuously and determine if your content is allowing for a more positive and easier interaction when navigating on your page. (Is it usable.)
You will notice patterns in the way your audience interacts with your website or content the more you get used to tracking analytics. Having a better understanding of traffic sources such as where your web traffic is coming from, your average bounce rate, and the average duration time either of your website or of a typical web page, are also important elements that make up user behavior.
Now that you have a better understanding of how to optimize for user behavior and user experience, where will you start?