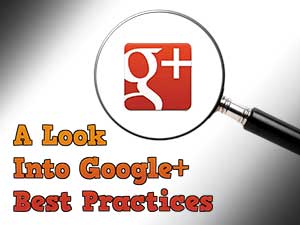 7 Tips to Optimize Posts on Google+
Why do I need to be on Google+ ?
Google+ is a content-based platform with content-heavy posts performing the best.
Google crawls their own social site before other websites so posting content on Google+ helps it index quicker.
How can I use Google+ effectively?
Tagging: Be social! Tag the person who wrote the article or the company that produced the content.  Make it easy for others to engage back by tagging them.
Use hashtags: Hashtags aren't only for Twitter! Adding a hashtag in a Google+ post helps content be found and seen, this is also a very easy way to join relevant conversations. Google+ even makes it easy to use hashtags by suggesting a word in the post that is commonly used as a hashtag.
Posts photos: Google+ has 1.5 billion photos uploaded each week. Visual aids are becoming a necessary marketing tool as posts with photos perform the best across all platforms. Photos can be uploaded easily with a feature enabling multiple photos to be uploaded at once. Individual captions can even be added to each photo allowing more information in a single post.
Timing: The best times to post on Google+ are between 9 am and 11 am, while the worst times to post are 6 pm and later. This makes it very easy to post effectively on Google+ simply by making it part of the morning routine.
Longer Posts: Short posts usually perform the best on other platforms but medium to longer posts actually perform better on Google+. Try creating longer posts on Google+ by posting the first 3 paragraphs of an article, including a great quote, bulleting the key takeaways or writing a summary of the piece. While we should be posting longer posts they still need to be visually appealing, include line breaks and bullets to keep the post clean and easy to read.
Headlines: Google+ uses the first line of text in the post similar to a meta-tag description. To help content be easily found and searched always put the key words as close to the beginning of the post. A one line "headline" at the top of the post to describe the content or article is the most effective.
Cross-share: Make it easy for friends on other platforms to connect on Google+. Share a great article with key takeaways in a Google+ post then share the link to the Google+ post on Twitter.
Follow Carli @WTWH_Carli
Follow Marketing Team @WTWH_Marketing